Welcome to
CleanAid
Direct
CleanAid Direct is an independent commercial eco-cleaning &
disinfecting service provider, hygiene supply and consumables company.
Our full janitorial care services include professional disinfecting and testing through to the specialised cleaning of data centres, washroom facilities and consumables.
We thoroughly clean the places you work, play and visit using effective, plant-based, chemical-free and biological products in conjunction with the latest cleaning methods ensuring environments that are healthier and safer for everyone.
Our customers enjoy consistent, high quality cleaning, ease of supply restocking and reliable service 24/7, every day of the year.
Contact us today to discuss your cleaning and hygiene requirements
0800 629 583.
CleanAid Direct Provide
Cleaner, Safer & Healthier Environments
As a dedicated eco-cleaning company, CleanAid Direct is committed to minimising our environmental impact, and to support our clients in doing the same at their facilities.
We thoroughly clean workspaces using highly effective, NZ Environmental Choice certified cleaning products and chemical-free methods ensuring environments are healthier and safer for customers and employees.
Cleaner Buildings Support Health & Wellbeing
Contaminate-free and allergen reduced working environments.
Increased productivity, due to decreased spread of bacteria, reducing staff sick leave.
Improved air quality.
Employee comfort, wellbeing and morale greatly enhanced, with greater
staff retention.
Properly cleaned floors lower the risk of slip and fall accidents, supporting Health & Safety policies.
CleanAid Direct Helps You
Reduce Maintenance Costs & Uphold Building Standards
Buildings that are regularly and expertly cleaned are proven to be less expensive to
maintain, hold greater property value and have reduced tenant turnover.
CleanAid Direct keeps your workspace clean and building standards high, using the
latest green, biological, plant-based, chemical-free techniques helping you reduce maintenance costs.
Clean Buildings Reduce Costs & Increase Revenue Long Term
Harsh chemicals and abrasive cleaning techniques are eliminated,
surfaces protected, maintenance costs reduced.
Quality standards are exceeded.
Buildings are in optimum condition, so property values remain high.
Building longevity improved.
A professional business image promoted.
Creating more desirable working environments.
Increased tenant satisfaction, longer tenancies and reduced turnover.
Partner With CleanAid Direct
Complete Janitorial, Equipment & Supply Services
CleanAid Direct's comprehensive services are tailored to take care of your specific cleaning, equipment and washroom supply requirements to provide a full-service solution.
Your work environment will be hygienically clean using environmental and people friendly, chemical-free techniques and you'll save administration time and money through our convenient resupply programme.
Cleaner & More Convenient
Cleaner, healthier environments using NZ Environmental Choice certified cleaning products and chemical-free methods.
Washroom and cleaning supplies restocked, saving ordering time and money, on one invoice.
Regular cleaning programmes supported by quick response specialised services;
carpet cleaning, hard floor care, window washing and construction clean-ups.
Specialist data centre and server room cleaning.
Supporting your company's energy management objectives and recycling programmes through effective waste management practices.
CleanAid Direct's People Make a Difference
Fully Trained & Qualified Staff
CleanAid Direct are the cleaning experts who take great pride in delivering healthier, more hygienic workplaces.
Our staff are NZQA qualified in Commercial Cleaning, Workplace First Aid and are experienced in up-to-date ethical and sustainable cleaning techniques.
Supervised training includes best-practice recycling, procurement decision-making and personal impact on the environment.
Protecting Human Health Through Experience & Sustainable Practices
Use chemical-free, NZ Environmental Choice products and sustainable cleaning techniques.
Healthier environments for our staff and your people.
Encourage ITO courses and obtaining NZ Certificate in Commercial Cleaning to Level 2.
Qualified in Workplace First Aid.
Intensive, supervised on-the-job training.
Full on-site inductions.
Six-monthly technique review and update meetings.
Performance evaluation for consistently high standards of service.
Site assessments for hazards, waste and cost reduction opportunities.
CleanAid Direct Clean
The Places You Work & Visit
We professionally clean the places you work, play and visit to ensure healthier and
cleaner environments for everyone to enjoy.
Environmentally Safe Cleaning
Office Buildings, Banks.
Data Centres, Server Rooms.
Apartment Buildings.
Retailers, Supermarkets.
Bars, Gyms, Trade & Retail Showrooms.
Medical Practices, Nursing Homes & Dental Offices.
Visitor Centres, Convention Centres.
Day Care & Special Education Centres.
Manufacturing Facilities, Distribution Centres.
Car Dealerships, Automotive Repair Centres.
Civic Centres, Sports & Recreation Facilities.
Local Government.
CleanAid Direct's services include:
Executive Office Cleaning
Hygiene Supplies & Provisions
Server Room Cleaning
Consumables supplied
Washroom Services & Facilities
Technology Cleaning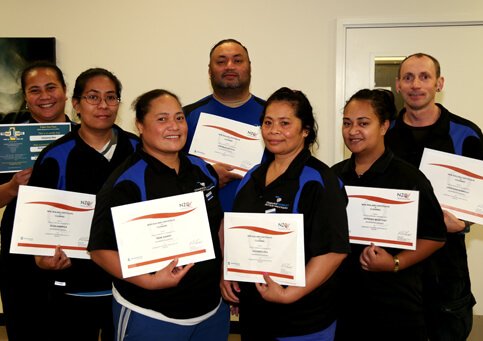 Trained Professional Staff
All CleanAid Direct staff site are NZQA Qualified in Commercial Cleaning and Workplace First Aid. The staff members are proud of their reputation for delivering consistent high quality cleaning results and hygiene care. They constantly strive for customer happiness and peace of mind.
Environmentally Safe Cleaning Products
CleanAid Direct uses NZ Envirochoice certified cleaning agents and non-chemical cleaning methods, such as steam and microfilament disposable cleaning products.
At CleanDirect we are dedicated to workplace hygiene and can provide performance and delivery guarantees.
We are more than happy with the service we receive from CleanAid Direct Cleaners.
It is efficient and good.

CleanAid Direct Cleaners is the right company for the job.
CleanAid Direct Cleaners always deliver a very good service, which is matched by your excellent customer service.
You are very good for the job: flexible, reliable and efficient.
I award you 9/10 for a job well done.
Your service is great. Great cleaning team, they are part of our own team. I rate your service 9/10 and absolutely recommend your service.

Call us today to talk about how we can help you. 0800 629583